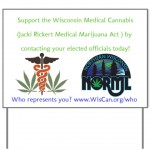 The Northern Wisconsin NORML Chapter meets on the 2nd Thursday of each month for food, fellowship and public meeting.
Check the calendar of events often for updates, things to bring to the meeting and to confirm agendas.  The next event of Northern Wisconsin NORML is an Industrial Hemp Booth at the Answers to Energy Fair on Saturday March 10th.
From 4:20pm to 5:30pm the chapter board of directors, along with members and supporters enjoy fellowship as an informal group gathering together prior to our meeting. The meeting location is the Harmony Cafe, 233 E College Ave in Appleton, which has food and beverages available for sale.
At 5:30pm the chapter begins the general meeting, which usually lasts until 7:00pm, sometimes finishing early, but they have the room reserved up till 8pm just in case.
Meetings are open to the general public and you are not required to a be a member to attend. Meetings are also broadcast over the Internet via Google + Hangouts!
The chapter will post the link once live on the Northern Wisconsin NORML Facebook Page.
from captimes.com:
Dear Editor: The Wisconsin and Madison affiliates of the National Organization for the Reform of Marijuana Laws (NORML) salute Mayor Paul Soglin and the Madison City Council for honoring the late Madison activist Ben Masel at their May 17 meeting. In addition to other pursuits, Ben was a longtime NORML activist and served as a board member and officer in our group.

Madison alders voted unanimously to adopt a memorializing resolution titled, "Honoring the life of Bennett 'Ben' Masel, his contribution to our community and declaring April 20th as 'Ben Masel Day' in the City of Madison."

As many know, April 20 is, not coincidentally, the date on which those who respect cannabis take a day to celebrate the plant and work for its legalization. Celebrating Ben's life and contributions will make future 4/20s even more special.

Special thanks are due to Ben's alder, Bridget Maniaci, and District 6 Ald. Marsha Rummel for sponsoring and crafting the inspiring wording of the resolution, as well as council colleagues Mark Clear, Shiva Bidar-Sielaff, Anita Weier, Mike Verveer and Lisa Subeck for cosponsoring.

But while decades of efforts inextricably linked Ben with cannabis and hemp legalization, his advocacy went beyond, including free speech, privacy and the right to assemble. The best way for all of us to honor and remember Ben's contributions is to make every day Ben Masel Day by joining in continuing his advocacy.

Gary Storck, co-founder

Madison NORML